2018 Seminar date to be announced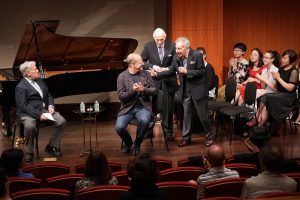 Thursday, June 23, 2016
7:00 p.m. – 8:30 p.m.
Meet Lowell Liebermann, Composer of the Commissioned Composition for the 2016 Competition
Moderator, Robert Sherman
..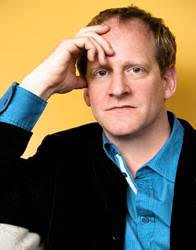 Lowell Liebermann
Lowell Liebermann was born in New York City in 1961. He began piano studies at the age of eight, and composition studies at fourteen. He made his performing debut two years later at Carnegie Recital Hall, playing his Piano Sonata, Op.1, which he composed when he was fifteen. He holds bachelor's, master's, and doctoral degrees from the Juilliard School of Music. Among his many awards is a Charles Ives Fellowship from the American Academy and Institute of Arts and Letters as well as awards from ASCAP and BMI. Theodore Presser Company is the exclusive publisher of his music.
Mr. Liebermann is one of America's most frequently performed and recorded living composers. Called by the New York Times "as much of a traditionalist as an innovator." Mr. Liebermann's music is known for its technical command and audience appeal. Having written over one hundred works in all genres, several of them have gone on to become standard repertoire for their instruments, including his Sonata for Flute and Piano, which has been recorded over twenty times, and his Gargoyles for Piano, which has been recorded at least fifteen times. A pianist himself, Mr. Liebermann has written a wealth of music for the solo instrument, much of which frequently appears on concert and competition programs.
Lowell Liebermann has written two full-length operas, both of which were enthusiastically received at their premieres. His first, The Picture of Dorian Gray, was the only American opera to be commissioned and premiered by Monte Carlo Opera. His second opera Miss Lonelyhearts, to a libretto by J.D. McClatchy after the novel by Nathanael West, was commissioned by the Juilliard School to celebrate its 100th anniversary. Among his orchestral works, Mr. Liebermann has composed two Symphonies – the Second, with chorus, written for the centennial of the Dallas Symphony; a Concerto for Orchestra; three Piano Concertos; and Concertos for many other instruments. In the realm of chamber music, Mr. Liebermann has composed four string quartets – the two most recent for the Ying and Orion Quartets respectively; four Cello Sonatas; two Piano Trios; Sonatas for Flute, Violin, Viola, Flute and Harp; and works for many other combinations. Sir James Galway has commissioned three works from Mr. Liebermann: the Concerto for Flute and Orchestra, the Concerto for Flute, Harp and Orchestra , and Trio No. 1 for Flute, Cello and Piano. Sir James premiered the Flute Concerto in 1992 with the St. Louis Symphony and the double concerto with the Minnesota Orchestra in 1995.
..
Robert Sherman
Broadcaster, writer, teacher, and radio personality, Robert Sherman is probably best known for his work at WQXR, where he has served for more than fifty-eight years as Program Director, Executive Producer, and Senior Consultant. For thirty-six years, he has presided in "The Listening Room," and continues to present "The McGraw-Hill Companies' Young Artists Showcase" for the station. Since their inception, he has hosted the Avery Fisher Career Grant Award presentations at Lincoln Center, and the annual Martin Luther King Jr. Birthday special from the Harlem School of the Arts. His multiple award-winning folk series "Woody's Children" is now heard in New York on Public Radio's WFUV. On the faculties of the Juilliard and Manhattan Schools, Robert Sherman has given seminars at Oberlin, Yale, the Eastman School, the University of Arizona, and the Mannes College of Music, where he is also an artist member of the Board of Governors.
Music critic and columnist for the New York Times for more than twenty-five years, Sherman has written two books with Victor Borge, is the co-author of "The Complete Idiot's Guide to Classical Music," and with his brother, Alexander Sherman, compiled a pictorial biography of their mother, the renowned pianist Nadia Reisenberg. He is on the advisory boards of many major cultural organizations, as well as serving them variously as pre-concert lecturer, competition judge, panel moderator, and fund-raising emcee.
As a concert narrator, Robert Sherman has performed with the Canadian Brass, the United States Military Academy (West Point) Band, the Hudson Valley Philharmonic, and Philharmonia Virtuosi; among his many performances are the world premieres of works written especially for him by Seymour Barab, William Mayer, Issachar Miron, and Soong Fu Yuan.